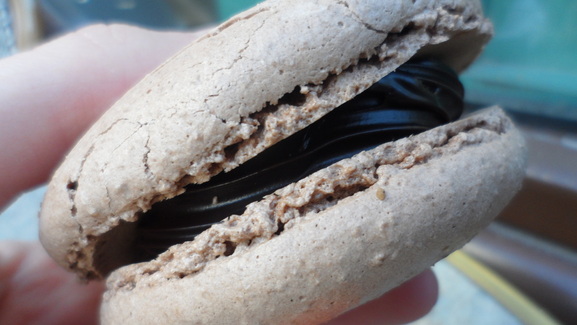 I really hate to bring such sad, sad news, but I may as well just say it ... Au Panetier has closed. : (
Yes, Au Panetier, the adorable little boulangerie that makes what are hands-down the best macarons in the city (as I described in this post), is no more. From what I've pieced together using my very limited French along with Google Translate, they closed in July and the space has been taken over by a bread-maker. Honestly, though, we went in there the other day and I didn't see anything remarkable at all - the bakers case wasn't even full, and they had a fruitcake in the window. A fruitcake!
I can only hope that the owner of Au Panetier has decided to retire (she was an older woman) and is busy baking her amazing macarons for adoring little grandchildren. : )
As for me, I've been forced to console myself by eating every other giant chocolate macaron in Paris. In case you're wondering who's now in the top spot on my best macaron list, there is currently a tie between
Paul
and
Pierre Hermes.
Perhaps I will hold a tie-breaking round tomorrow. But, no matter what, Au Panetier macarons will always wear the crown. : )